Louisiana's First HAUNTED Hayride!
In their effort to find the elixir of eternal life, scientists push the bounds of genetics and gene manipulation and finally create their most sought-after prize, until things go horribly, horribly wrong…
As we enter our eighth season of haunted entertainment, we'll be opening our newest dark attraction, a haunted hayride. Our Zombie Paintball attraction has been relocated and replaced with this new adventure. Up to 32 guests will be transported through the backwoods of Tickfaw on tractor-pulled hay wagons. This 25 to 30-minute adventure will feature plenty of scares and a unique story as hordes of beast-like monsters frighten and entertain visitors.
Being in the haunt industry for nearly 10 years now, we've met a lot of haunt owners and befriended quite a few. When we started planning and designing the attraction in mid-2017 we turned to our friends in the industry who operated hayrides and they allowed us to tour their attractions and pick their brains on how things operated. We were given behind-the-scenes tours of Talon Falls in Kentucky, Shoctoberfest in Pennsylvania and Headless Horseman in upstate New York. We also toured several major hayrides in Pennsylvania during their live shows, Bates Motel, Field of screams, and Reapers revenge, which are all successful haunted hayrides. With our homework done, we began discussing what stood out at each of the attractions and how we could incorporate what we liked into our show. In the end, we knew we wanted to incorporate huge sets, a variety of scares and tell a story that would not only frighten our guest but entertain them as well.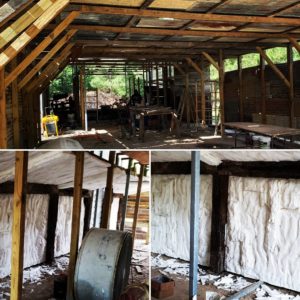 Construction started in January and really got serious in late March. There's a lot of prep work that goes into this type of attraction. Preparing the ground, clearing away trees and brush, preparing the surface for travel and drainage. We designed and constructed the hay wagons that visitors will ride on. There are 8 major scenes that the hay wagons will drive through. Those buildings were pre-fabricated in our workshop and then moved and assembled in the trail. Once the buildings were in place we had to build the props that decorate the scenes along with paint and detail the sets. Sound and Lighting had to be installed along with pneumatic props and animatronics.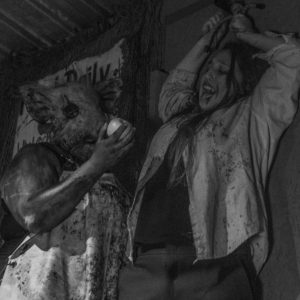 As with our other two attractions, we will rely heavily on our superb cast of actors to make our detailed sets come alive. Our stage manager and creative team have been hard at work writing scripts and training actors on their staging and delivery. Each scene is practiced over and over again as scripted and we try to incorporate scenarios for when things don't go exactly as planned. Makeup and costuming is a huge part of the pre-planning process. Our SFX team has put together some top-notch designs that will truly immerse the crowds into the adventure.
Everyone here at RISE loves what they do. From the owners to the managers, to the build team to the actors providing the scares, we all have one goal in mind, to put on the greatest show we can. We hope that everyone who visits our attractions leaves with their heart beating fast and a smile on their face.